mark mclaughlin
FOUR-LETTER WORD BEGINNING WITH `F'
We're extremely proud to include Bram Stoker Award winner Mark McLaughlin's column Four-Letter Word Beginning with `F' as one of the features EXCLUSIVE to HORROR GARAGE!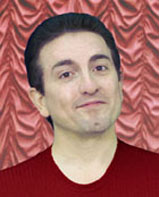 Mark McLaughlin's fiction, nonfiction and poetry have appeared in hundreds of magazines, anthologies, and websites, including The Living Dead 2, Cemetery Dance, Dark Arts, Midnight Premiere, Fangoria, Horror Garage, FilmFax, Shroud Magazine, ChiZine.com, The Black Gate, Galaxy, all three Bending the Landscape volumes, and two volumes each of The Best of the Rest, The Best of HorrorFind, and The Year's Best Horror Stories, as well as The Book of All Flesh, its two companion volumes, and The Best of All Flesh. Collections of his fiction include Death Creeps In On Velvet Paws, Twisted Tales For Sick Puppies, Raising Demons For Fun and Profit, Slime After Slime, Pickman's Motel, Motivational Shrieker, and At the Foothills of Frenzy (with co-authors Shane Ryan Staley and Brian Knight). He is the co-author, with Rain Graves and David Niall Wilson, of The Gossamer Eye, which won a Bram Stoker Award for Poetry. His collaborative novel with Michael McCarty, Monster Behind the Wheel, was a Bram Stoker Award Finalist for Best First Novel. Mark's works can be found at www.MerchantsKeep.com, www.Horror-Mall.com, and the Anthologies Section of www.GenreMall.com. Visit Mark on the web at www.facebook.com/MarkMcLaughlinMedia, www.myspace.com/monsterbook, and www.youtube.com/mcmonsterbook.
FORGET THOSE TEENAGE MUTANTS!
I'VE GOT YOUR TURTLE POWER RIGHT HERE
For years, high-profile trend guru Faith Popcorn has been beguiling our nation's marketing professionals with her predictions for the future. Ms. Popcorn analyzes what's going on in the world and then speculates on how Americans will be living, playing, and basically, spending their money. She once predicted that "Cocooning" would be a major trend -- meaning, folks would spend more and more time living their lives from the privacy and security of their homes. Boy, was she right about that one!
The Internet has made cocooning an American way of life. People can work, play, shop and network, all from their personal computers. This winter, I've been cocooning up a storm. In November, I bought a ton of vintage genre movies that had been re-released in DVD format and since then, I've been happily spending my winter evenings watching loads of oldies-but-goodies. In my cinematic cocoon, I've watched mighty Hercules fight Moonmen and Peter Graves battle Killers from Space. I've witnessed the thrilling adventures of the Indestructible Man, the Invisible Man, and the Last Man on Earth, as well as the Wasp Woman, the Women of the Prehistoric Planet, and the Wild Women of Wongo.
And... I've come to know and love a special creature named Gamera.
The fear du jour in this installment of my column is a very personal fear indeed: I fear that my beloved Gamera will be forgotten someday. And so I'm here to remind you of this big, rambunctious turtle and his message for the universe.
When Gamera first appeared, his name was spelled with a double-M. Gammera the Invincible was released in 1965 by Japan's Daiei Motion Picture Company. Basically, Gamera (I'll stick with the spelling used most commonly) is an 80-ton prehistoric turtle, about 200 feet long, with huge tusks sticking up out of his bottom jaw. In his first movie, Gamera is roused from his frozen sleep under Arctic ice by pesky human planes and bombs. Once awakened, he finds himself hungry for warmth... for Gamera comes from a time when fire was plentiful on the face of the Earth, and it's the treat he loves to eat. Fire, electricity, atomic energy... Gamera just can't get enough. If you want to lure Gamera, start a big fire. If you want to incapacitate him, make him chilly. Like most reptiles, he gets sluggish in cold weather (FYI, Godzilla's the same way).