mark mclaughlin
FOUR-LETTER WORD BEGINNING WITH `F'
We're extremely proud to include Bram Stoker Award winner Mark McLaughlin's column Four-Letter Word Beginning with `F' as one of the features EXCLUSIVE to HORROR GARAGE!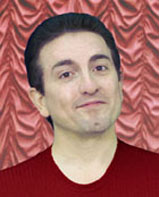 Mark McLaughlin's fiction, nonfiction, and poetry have appeared in almost one-thousand magazines, newspapers, websites, and anthologies, including Black Gate, Galaxy, Fangoria, Writer's Digest, Flesh and Blood, Midnight Premiere, Dark Arts, and two volumes each of The Best of the Rest, The Best of HorrorFind, and The Year's Best Horror Stories (DAW Books).
Collections of McLaughlin's fiction include Motivational Shrieker, Slime After Slime, Pickman's Motel, Raising Demons For Fun and Profit, and At the Foothills of Frenzy (with coauthors Shane Ryan Staley and Brian Knight). With regular collaborator Michael McCarty, he has written Monster Behind the Wheel, Partners In Slime, All Things Dark and Hideous, Professor LaGungo's Delirious Download of Digital Deviltry and Doom, and Professor LaGungo's Classroom of Horrors.
McLaughlin is the coauthor, with Rain Graves and David Niall Wilson, of The Gossamer Eye, which won the 2002 Bram Stoker Award for Superior Achievement in Poetry. An expert on B-movies, McLaughlin writes a blog on cinematic horror at www.BMovieMonster.com. You can watch some strange little movies he has created at www.YouTube.com/McMonsterBook. He is also a successful marketing and public relations executive who writes articles for business journals, newspapers, and websites.
To find out more about McLaughlin's work, visit www.Facebook.com/MarkMcLaughlinMedia.
HORROR WITH NO STRINGS ATTACHED:
A SALUTE TO THE PUPPET MASTER SERIES **NEW**
MARSUPIOPHOBIA:
HORROR HAS FOUND A NEW PLACE TO KEEP ITS KEYS
THE FACE OF FEAR:
A SALUTE TO PETER CUSHING
FLORAPHOBIA:
HORROR TAKES ROOT
UGLYPHOBIA:
THE FEAR OF BEING FACIALLY CHALLENGED
SEEGEEEYE-PHOBIA:
FEAR OF EXTREMELY BAD SPECIAL EFFECTS
MEPHISTOPHOBIA!
OR, THE DEVIL GOES HOLLYWOOD
EROTOKOSMIKOMEDUSOPHOBIA!
OR, THE PERILS OF DATING
A LOVECRAFTIAN MONSTER
PAGING DR. PRETORIUS:
OR, A FEVERISH FEAR OF PHYSICIANS
THE APES OF WRATH:
OR, WAS KING KONG INSPIRED BY CTHULHU?
ONOTERATOPHOBIA:
A VERY SPECIAL EPISODE OF
"FOUR LETTER WORD BEGINNING WITH 'F'"
EXPLORING UNDERGROUND HORROR (LITERALLY), OR:
"IT IS LIKE, REALLY DARK DOWN HERE.
I AM SO SCARED!
HEY, WHAT WAS THAT WEIRD NOISE?
OH MY GOD, SOMETHING'S AFTER US! RUN!"
ARE YOU GOOD AT BEING BAD,
OR BAD AT BEING GOOD?
HOW TO SKIN FRIENDS AND CHARBROIL PEOPLE
OR: WHO'S ON THE MENU TONIGHT?
MAMMA MIA! ARGENTO'S WITCHES,
LIKE SHAFT, ARE BAD MOTHERS
A 21-BUZZ SALUTE TO
CANADIAN FLY-GUYS
TEST YOUR HORROR-MOVIE TRIVIA I.Q.
A SALUTE TO
GROOVY EUROPEAN WEREWOLVES
MONEY ISN'T EVERYTHING...
UNTIL YOU'RE OUT OF IT
FORGET THOSE TEENAGE MUTANTS
I'VE GOT YOUR TURTLE POWER RIGHT HERE
THE CURSE OF LOT'S WIFE
OR, JUST A PEEK CAN'T HURT
YOU DON'T OWN ME...
YOU HAVEN'T EVEN MADE A DOWN PAYMENT!
GET THAT THING AWAY FROM ME!
I'M ALLERGIC TO MACHETES
(THEY MAKE ME FALL APART AND DIE)
I'M READY FOR MY CLOSE-UP, MR. AVATI
TIME MARCHES ON...AND IT'S SURE TRAMPLED
THE HELL OUT OF YOUR FACE

CREEPSHOW ASYLUM OF TERRORS THAT WITNESS MADNESS:
OR, EXPLORING THE FEAR JUNGLE OF ANTHOLOGY HORROR MOVIES
THE MORAL DECLINE OF WESTERN CIVILIZATION
BEASTLY BEHAVIOR: OR, SORRY FOR RIPPING YOU A NEW ONE,
BUT I'VE BEEN HAVING A HELL OF A WEEK
DRINK TO ME ONLY WITH BRINE EYES