mark mclaughlin
FOUR-LETTER WORD BEGINNING WITH `F'
We're extremely proud to include Bram Stoker Award winner Mark McLaughlin's column Four-Letter Word Beginning with `F' as one of the features EXCLUSIVE to HORROR GARAGE!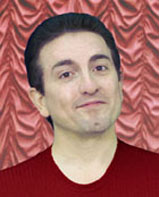 Mark McLaughlin's fiction, nonfiction and poetry have appeared in more than 800 magazines, anthologies, newspapers, and websites, including Horror Garage, Doorways, Hungur, Cemetery Dance, Space & Time, The Black Gate, Galaxy, Writer's Digest, FilmFax, Dark Arts, Midnight Premieres, and two volumes each of The Best of the Rest, The Best of HorrorFind, and The Year's Best Horror Stories. Collections of his fiction include Pickman's Motel, Slime After Slime, Motivational Shrieker, At the Foothills of Frenzy (with Shane Ryan Staley and Brian Knight), and All Things Dark and Hideous (with Michael McCarty). Also, he is the co-author, with Rain Graves and David Niall Wilson, of the poetry collection The Gossamer Eye, which won a Bram Stoker Award for Superior Achievement in Poetry. His most recent poetry collection, Phantasmapedia, was a finalist for the Stoker Award.
In September 2008, Delirium Books/Corrosion Press released Monster Behind the Wheel, a novel Mark wrote with collaborator Michael McCarty. In that same month, Skull Vines Press released Attack of the Two-Headed Poetry Monster, also co-written with Michael McCarty. These and other books can be ordered at www.horror-mall.com. Be sure to visit Mark online at www.myspace.com/monsterbook and
www.myspace.com/poetrymonsterbook.
I'M READY FOR MY CLOSE-UP, MR. AVATI
This time around, I'm taking a break from talking about other people's movies to tell you about MY movie, The Hideout, currently being filmed in the city where I live, glamorous Davenport, Iowa. Yes, in the near future, my sinister visage will be up there on the big silver screen. Since this column is all about cinematic fear, let today's fear be... fear of would-be actors who are half-Greek and half-Irish (a.k.a. me). Movie-goers, beware! When my movie is released, Graeco-Gaelo-phobia will surely sweep across the globe... or at least the southern boot of Europe, since the company responsible for my movie, Duea Films, is Italian.
I must admit, I'm being awfully bigheaded in calling The Hideout MY movie, since I'll only be appearing in one scene. I'll probably have about ten seconds of screen-time, and I don't have any lines. But hey, it's not like I appear in movies every day. So until I'm cast as Jason in Friday the 13th Part 27: Jason Unleashes His Unholy Rage Upon Davenport, Iowa, Because Cities Shouldn't Be Named After Living-Room Furniture , I shall consider The Hideout to be MY movie.
But how, you might ask, did I even manage to bumble my way into a movie in the first place? And, what exactly is my role in this Italio-Iowan undertaking? Read on, and all shall be revealed...
Part 1: Move Over, Brad Pitt! Here Comes Mark!
"The winner of the Academy Award for best actor is..." The host pauses to open that magic envelope. He pulls out a card, reads it, cries out "Mark McLaughlin!" The crowd goes wild!
That was the delicious daydream that flashed through my mind when I learned that Italy's film-making Avati brothers, Pupi and Antonio, were coming to Davenport to shoot a suspense story called The Hideout. I found out that small speaking parts and roles for extras in this movie would only require one day of shooting time, so I figured I'd be able to work that into my schedule. Stars in my eyes, I showed up at the audition clutching my acting resume and a color picture of myself.
It's not a very long acting resume. Years ago, I'd played Orlando in As You Like It on a community theatre stage, and also Sir Andrew Aguecheek in a college production of Twelfth Night. Still, Orlando had been a lead role, so hopefully that credential would give me a slight edge.
According to the casting information sheet, The Hideout will feature prominent Italian film actresses Laura Morante and Yvonne Scio, as well as American actors Burt Young and Treat Williams. Treat... Hmmm, do ya think that's a stage name? Sorry, I can't picture anyone naming a baby Treat, unless of course you wanted the wee thing to grow up to be a porn star.