mark mclaughlin
FOUR-LETTER WORD BEGINNING WITH `F'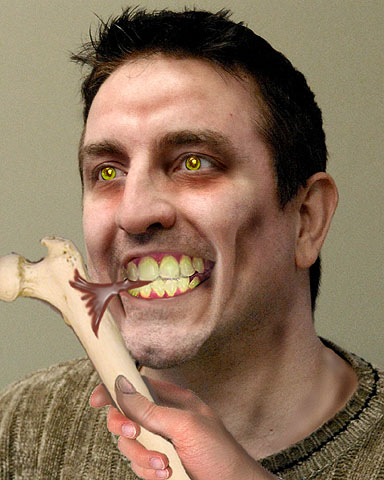 Mark McLaughlin's fiction, nonfiction and poetry have appeared in more than 800 magazines, anthologies, newspapers, and websites, including Horror Garage, Doorways, Hungur, Cemetery Dance, Space & Time, The Black Gate, Galaxy, Writer's Digest, FilmFax, Dark Arts, Midnight Premieres, and two volumes each of The Best of the Rest, The Best of HorrorFind, and The Year's Best Horror Stories. Collections of his fiction include Pickman's Motel, Slime After Slime, Motivational Shrieker, At the Foothills of Frenzy (with Shane Ryan Staley and Brian Knight), and All Things Dark and Hideous (with Michael McCarty). Also, he is the co-author, with Rain Graves and David Niall Wilson, of the poetry collection The Gossamer Eye, which won a Bram Stoker Award for Superior Achievement in Poetry. His most recent poetry collection, Phantasmapedia, was a finalist for the Stoker Award.
In September 2008, Delirium Books/Corrosion Press released Monster Behind the Wheel, a novel Mark wrote with collaborator Michael McCarty. In that same month, Skull Vines Press released Attack of the Two-Headed Poetry Monster, also co-written with Michael McCarty. These and other books can be ordered at www.horror-mall.com. Be sure to visit Mark online at www.myspace.com/monsterbook and
www.myspace.com/poetrymonsterbook.
HOW TO SKIN FRIENDS
AND CHARBROIL PEOPLE, OR:
WHO'S ON THE MENU TONIGHT?
Bon jour! And welcome to Chez Donner's. Party of one? Tonight's specialty is a delicacy known in certain circles as Long Pork. You see, a member of the waitstaff asked for a raise, but times are tough (along with the meat from our regular supplier), so instead we gave the fellow a promotion: from server to serving.
As always, we will be chatting about fear (that's the four-letter word beginning with "F," don'tcha know), and the phobia du jour, unlike revenge, is rarely served up cold: it's phagophobia, the fear of being killed and eaten -- not necessarily in that order.
In fact, let's fine-tune that fear with an additional prefix and call it anthropophagophobia: the fear of being killed and eaten by other people, a.k.a. cannibals.
Haven't you ever been in a situation where maybe -- just maybe -- you thought that some overly aggressive and abundantly hungry folks might like to chow down on some nice juicy Leg of You?
Think back, back... Remember when crazy-eyed Uncle Otis came to visit when you were little -- so very little -- and he pretended to take a bite out of you, just to be funny? But it wasn't so funny. Those big, tobacco-stained teeth of his left marks....
Remember when you were a teenager, driving down that shady country road in that especially rural part of the country, and the needle of your gas gauge was hovering perilously close to "E"? Remember those potbellied geezers who waved to you as you drove by? Wasn't one of them licking his lips...?
Remember that heavy-browed, dowager's-humped old woman with the long, funny last name who used to bring huge, scorched roasts to all the church socials? Everybody would guess and guess about the species of the cooked beast in question. Beef? Pork? Lamb? Moose? It had such an unusual flavor and texture. And how that old woman used to stare at you, as though sizing you up for a roasting pan....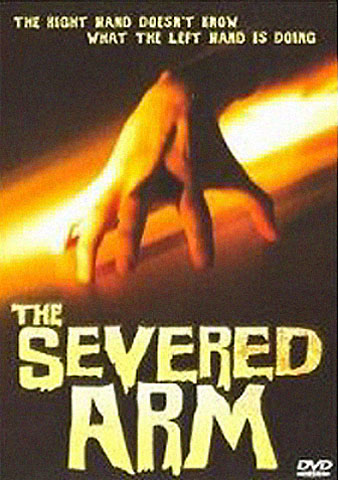 Of course, sometimes it's necessary for folks to eat each other -- for survival's sake, of course. Just ask any of the mine-shaft explorers in The Severed Arm (1973). After being trapped underground for days on end after a cave-in, the explorers decide it would be a crime to starve to death. So like a certain neighborhood-watch mascot, they decide to take a bite out of crime.
They cut off the arm of a buddy for dinner -- and naturally, they're rescued very soon afterward. How ironic! Oh, if only they had waited just a little bit longer! Darn! But then, it wouldn't have been much of a movie without the cannibalism.
Their tasty pal-turned-victim-turned-entree survives being feasted upon, and the other explorers tell the authorities that his arm had been severely injured during the cave-in and had required amputation. Years later, the lying chowhounds are hunted down, one by one, by what appears to be a one-armed assailant with an ax to grind. A sharp, shiny little hand ax.
We've all heard of burying the hatchet, and that's just what the attacker does: he buries it in their shoulders, foreheads, necks.... This shoestring-budget thriller is actually rather well-done (unlike that raw arm), so I won't spoil the ending.