mark mclaughlin
FOUR-LETTER WORD BEGINNING WITH `F'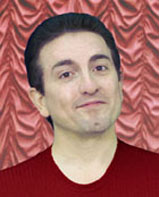 Mark McLaughlin's fiction, nonfiction and poetry have appeared in more than 800 magazines, anthologies, newspapers, and websites, including Horror Garage, Doorways, Hungur, Cemetery Dance, Space & Time, The Black Gate, Galaxy, Writer's Digest, FilmFax, Dark Arts, Midnight Premieres, and two volumes each of The Best of the Rest, The Best of HorrorFind, and The Year's Best Horror Stories. Collections of his fiction include Pickman's Motel, Slime After Slime, Motivational Shrieker, At the Foothills of Frenzy (with Shane Ryan Staley and Brian Knight), and All Things Dark and Hideous (with Michael McCarty). Also, he is the co-author, with Rain Graves and David Niall Wilson, of the poetry collection The Gossamer Eye, which won a Bram Stoker Award for Superior Achievement in Poetry. His most recent poetry collection, Phantasmapedia, was a finalist for the Stoker Award.
In September 2008, Delirium Books/Corrosion Press released Monster Behind the Wheel, a novel Mark wrote with collaborator Michael McCarty. In that same month, Skull Vines Press released Attack of the Two-Headed Poetry Monster, also co-written with Michael McCarty. These and other books can be ordered at www.horror-mall.com. Be sure to visit Mark online at www.myspace.com/monsterbook and
www.myspace.com/poetrymonsterbook.
TEST YOUR HORROR-MOVIE TRIVIA I.Q.
As we have ascertained in previous installments of this column, the four-letter word in question is "Fear," and in those afore-mentioned installments, I have addressed many deep-seated fears that the human creature can experience. But this time, I shall plunge even deeper into the Abyss of Fear, and of course I shall take you with me, because I get bored when I have to do stuff by myself for any significant length of time.
This time, we shall address a Fear that all fervent horror-movie aficionados experience at various points in their collective lives: the Fear that they might not be high-rankers in their knowledge of horror trivia (gasp!).
So, after years of scrupulous fright-film viewing, I have lovingly assembled the quiz below. Write down your answers as you go along, and at the end, I'll let you know how to score yourself, and THEN... then you will know how you rank in your mastery of horror trivia.
Each answer is worth one point. So if a question asks for two answers -- like, both the name of a movie and its director -- you'll get one point for the name of the movie and one for the director. Let the games begin!
1.) In what movie did Diana Rigg play a vengeful woman who sometimes wore drag as she assisted a serial killer?
2.) Name the movie in which Beverly Garland was married to a guy whose skin would have made a nifty handbag for her.
3.) In what movie does a brunette ditch her scientist boyfriend, who can walk through walls, for his brother? Also, name the brunette actress.
4.) What group performed the title song from Killer Klowns From Outer Space?
5.) Name the movie in which a radioactive cloud on a mountain hid a cosmic terror that might have welcomed a bulk discount on Visine.
6.) Name the 1963 movie made in Asia that was based on a William Hope Hodgson story -- and name the story, too.
7.) What flight-oriented physical trait did Varan the Unbelieveable share with Rocket J. Squirrel?
8.) Name the movie in which a two-timing blonde slipped into a wedding dress and then promptly turned into a dried-up cadaver.
9.) Psycho wasn't the only black-and-white movie horror movie about an innkeeper who offered an inferior level of hospitality. Name the one in which small-town witches burst into flames when they're touched by the shadow of the cross.
10.) In Dr. Terror's House of Horrors, Dr. Terror's house wasn't really a building. What was it... and who played Dr. Terror?
11.) Who played the smart housekeeper who quit her job when demonic forces manifested themselves in Mausoleum?
12.) Name the Cornel Wilde movie about monsters that, like platypuses, lay eggs and bear fur.
13.) Name the movie in which the star sang about her amorous adventures, survived the collapse of a castle, and still managed to maintain the integrity of her bouffant.
14.) In what movie did a young lady tourist meet her end in an iron maiden shortly after her latest flirtation lost his head via a handy guillotine?
15.) In the opening credits, cartoon drops of blood trickled down the opening credits. Name the movie and its director, who also played a lead role.
16.) Martin Balsam! Christopher Walken! Eli Wallach! Arthur Kennedy! Sylvia Miles! Ava Gardner! and William Hickey! All appeared in this star-studded horror movie. Name it!
17.) The title of this made-in-Japan sci-fi movie, which featured an Italian leading lady, sounds like the aftermath of a severe sinus infection. Name the movie and the leading lady.
18.) A prominent Italian horror director tried his hand at laughs... and a pop star strived for leading-man status ... in this 1966 horror/comedy fiasco. Name the movie, the director and the pop star.
19.) Vincent Price played an actor whose last name is a misspelling of some good places to store dead folks. Name the movie and Vincent's character.
20.) The acid vat! The ice tongs! The deadly binoculars! What horror movie -- filmed in Color, CinemaScope AND HypnoVista -- featured these deadly implements?
21.) An English bride entered a Transylvanian lake gorgeous and came out gruesome. Later, the process was reversed. Name the movie and its leading lady.
22.) In what movie did Jason decapitate a victim, but the head talked afterward? And, why was the head able to talk?
23.) A pretty lady sold liquid immortality in lovely little crystal vials. Name the movie and the actress who played the pretty lady.
24.) Name all three movies in the Dario Argento "Three Mothers" trilogy. Also, what was the full name of Mater Suspiriorum?
25.) Name the werewolf movie that starred the son of an actor who played a time-traveler. And while you're at it, name the actor from the werewolf movie, his father, and the name of the time-traveler played by the father.