mark mclaughlin
FOUR-LETTER WORD BEGINNING WITH `F'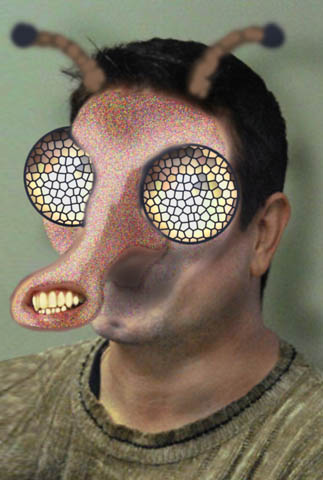 Mark McLaughlin's fiction, nonfiction and poetry have appeared in more than 800 magazines, anthologies, newspapers, and websites, including Horror Garage, Doorways, Hungur, Cemetery Dance, Space & Time, The Black Gate, Galaxy, Writer's Digest, FilmFax, Dark Arts, Midnight Premieres, and two volumes each of The Best of the Rest, The Best of HorrorFind, and The Year's Best Horror Stories. Collections of his fiction include Pickman's Motel, Slime After Slime, Motivational Shrieker, At the Foothills of Frenzy (with Shane Ryan Staley and Brian Knight), and All Things Dark and Hideous (with Michael McCarty). Also, he is the co-author, with Rain Graves and David Niall Wilson, of the poetry collection The Gossamer Eye, which won a Bram Stoker Award for Superior Achievement in Poetry. His most recent poetry collection, Phantasmapedia, was a finalist for the Stoker Award.
In September 2008, Delirium Books/Corrosion Press released Monster Behind the Wheel, a novel Mark wrote with collaborator Michael McCarty. In that same month, Skull Vines Press released Attack of the Two-Headed Poetry Monster, also co-written with Michael McCarty. These and other books can be ordered at www.horror-mall.com. Be sure to visit Mark online at www.myspace.com/monsterbook and
www.myspace.com/poetrymonsterbook.
A 21-BUZZ SALUTE
TO CANADIAN FLY-GUYS
I am a man fraught with guilt.
You might recall, in a previous installment of this column, I regaled you with a salute to groovy European werewolves. And while they certainly deserved a salute, it later occurred to me that I'd overlooked another sort of hairy horror-creature from another corner of the globe. What's more, the hirsute critters in question come from a movie series based in a country that usually isn't associated with monsters. And since every country should be encouraged to have its own indigenous creepy-crawlies, a salute is definitely in order.
A lot of countries are associated with specific movie monsters. Transylvania is known for its werewolves and vampires, Egypt has its mummies, Haiti has zombies, England has Mr. Hyde, Japan has Godzilla and a whole swarm of oversized city-stompers -- and during the Fifties and Sixties, Canada had the Delambre family of Fly-guys.
In The Fly (1958), Return of the Fly (1959), and Curse of the Fly (1965), we are treated to the continuing adventures of the well-to-do Delambre family. The Delambres are very polite, with the refined manners of high-society wealth, and that politeness sets a unique tone for these movies. Here is a family whose members have everything: looks, intelligence, sophistication, oodles of money... and highly dangerous laboratory equipment. Uh-oh!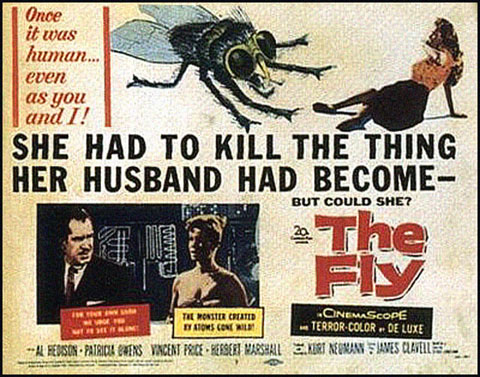 The mad scientists of the Delambre family keep getting into trouble because they just can't stop tinkering with matter teleportation devices. They're Canada's answer to the Frankenstein family of manic medics who kept stitching corpses together in movie after movie after movie.
Both the Fly and Frankenstein movie serials teach us that mad scientists make lousy spouses. Like an alcoholic hubby, or one who's addicted to Internet porn, they're always off wallowing in their secret delight. They're usually never around… and when they do show up, they're nervous, furtive and preoccupied. They can hardly wait to get back to their naughty indulgence.
The wives in these movies probably start out thinking, "Hurray, I married a doctor! I'm set for life!" But then a seven-foot-tall cadaver with neck-bolts strolls into the living room... or hubby pops up at the dinner table with an oversized fly-head where his handsome kisser used to be... and POOF! The honeymoon's over.
Oops, I just gave away a bit of the plot to those of you who haven't seen the old Fly movies. In The Fly, a scientist tries to transfer himself from one home-made teleportation chamber to another -- but darn the luck, a housefly gets in there with him, atoms start smooshing together en route, and soon he has a giant fly-head and a fly-arm, while the housefly gets a human head and one human arm. (That zany body-part-swapping doesn't happen in the modern Fly remakes, and the Fly-guys in the new ones aren't Delambres, so I'm not including them in this write-up. So there!)