Controlled Bleeding
BEFORE THE QUIET
Chuck Foster Talks to Paul Lemos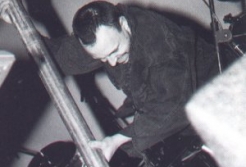 For 30 years, Paul Lemos has led Controlled Bleeding, a band best known for its early Industrial Noise innovations, despite its many musical mutations over the years. Now MVD Audio has released Before the Quiet, a compilation of the earliest incarnations of the band, from previously unreleased garage recordings, to their first 7Ē on Souptime Records, to extremely rare live performances. In these days, the band was quite musical, blending the urgent intensity of Punk Rock with the technical prowess of early Prog Rock and Jazz Fusion. The resulting music anticipated the intricate complexities of later Black Flag and other SST recordings, like a New Wave version of Greg Ginnís instrumental band, Gone. After hearing a completely different Controlled Bleeding than I had expected, I conducted this interview with Mr. Lemos to examine this little-known piece of the bandís history, and to get inside the head of one of underground musicís most innovative musicians.
Horror Garage: In your liner notes to Before the Quiet, you wrote that your "earliest inspirations were steeped in the first wave of New York City Punk bands" as well as technical Prog bands of the time. What did the late Ď70s punk movement mean to you?
Paul Lemos: That first wave of bands out of CBGBs and Max's, and the whole scene that followed was unbelievably exciting for me. In high school, I was old enough to get into the city and see these bands and to participate, to some degree, in this incredible subculture. It had so deeply frustrated me when I was a kid that I couldn't go to places like The Fillmore and see all the groups whose records, I loved or that I could not go to Woodstock because I was too young. So, when punk broke in New York City, it was an absolute fucking adrenalin rush. I loved the speed, the violence and the directness of these bands that hit me in the same visceral way that records like The Stooges Funhouse, The Velvet's White Light, the MC5's Kick Out the Jams, The Dollsí and Dictatorsí first albums had...But then there was another deeper aesthetic dimension to bands like Talking Heads, Television, Patti Smith that provided another level of inspiration...
HG: Why did you start Controlled Bleeding?
Paul Lemos: I started Controlled Bleeding because I had always been an obsessive fan of music, and I guess the natural tendency at some point was to become a creator of this music that completely consumed me at the time. There was really no set idea for the group when it began...It was just a natural outgrowth of my friendships with people like Gary Pecorino and Brian Setzer when we were kids, as we farted around with primitive instruments, and lived to buy records.
HG: Is that Brian Setzer of the Stray Cats and The Brian Setzer Orchestra? How did you come to meet him, and what was your relationship?