Electric Frankenstein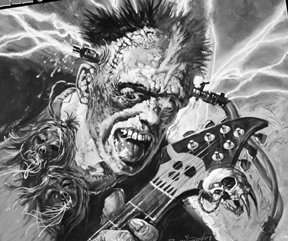 MONSTER OF ROCK
Roger Moser, Jr. catches up
with Sal Canzonieri
of Electric Frankenstein
For the past fifteen years, Electric Frankenstein has been mangling eardrums, shattering glass, splintering wood, crumbling concrete, and setting fire to countless stereo speakers the world over with a savagely blistering sound that can only be described as undiluted, high-voltage rock n' roll at its grittiest and most primal. The mighty EF machine is wildly driven by the gargantuan atomic-explosion drumbeats of John Steele, the propulsive concussion-inducing bass riffs of Dan Canzonieri, the inflammable power-chord crunch of rhythm guitarist Sal Canzonieri, and the monstrously growling voice and searing high-tension-wire leads of Steve Miller. Taken all together and cranking the amps up to eleven, Electric Frankenstein rocks like a full-fledged volcanic eruption in the infernal pits of Hades during the Rapture with Godzilla making a special guest appearance as musical director and uncontested expert of destruction. In other words, Electric Frankenstein is loud, intimidating, brutal, and unrefined, the way a real rock n' roll band should be. With the recent release of their thirteenth full-length amplified buzzbomb, Burn Bright, Burn Fast [TKO], Electric Frankenstein effectively sends a jolting, bone-cracking shock to the central nervous system via the ears, and there ain't no denying the unstoppable power that such a deafeningly clamorous electrical surge packs. Thankfully I was able to recover my senses enough to interview Mr. Sal on a whim and get his noteworthy opinion on all things noisily necessary. Live life loud, indeed!
Horror Garage: Electric Frankenstein has been raucously rippin' it up for fifteen years now. What has most inspired the band to rock, roll, and thunderously roar for damn near a decade and a half?
Sal Canzonieri: October will be our fifteenth year! What has inspired us to rock n' roll this long is two things: one, our musical roots, because we so loved the music of our youth, from AC/DC to the Dead Boys, that we wanted to do them proud and keep Electric Frankenstein alive in their memory and two, our fans, the most generous, dedicated, and fanatical following any band would be proud to have.
HG: The latest sonic shocker compiles thirteen of the band's best unreleased songs from each recording session the past thirteen years, having then been recently re-recorded for this newest release. I'm naturally curious as to what motivated y'all to take on such a unique and almost unheard of task.
Sal Canzonieri: [laughs] Well, for the pure balls of doing it! We laughed when we first thought of it, but then we seriously said, "Why waste these great songs now when we're hardly known? Why don't we save them for later, once a lot of people know about us?" We were very sure that we would still be around ten, fifteen, twenty years later, because we were out to revitalize rock n' roll music, to inject punk rock back into real rock n' roll and bring the Electric Frankenstein to life. Of course, when we listened to the tapes of these saved songs, we went back over them and improved them based on what we learned over the past fifteen years, and they sounded even better. We were still sure that they were great songs and that they would be diverse enough and still linked to our older stuff that our new fans from today and from our early days would both be happy to hear what we were unleashing on them. Again, the motivation was to do something great that our real fans would appreciate.
HG: How long have you been gettin' a fiery jolt out of the guitar? And who or what originally produced within you a burning passion to take up thy guitar and rock in the first place?
Sal Canzonieri: I personally have been playing guitar since 1975. Which means I saw the original mid-1960's garage punk bands like The Count Five, Music Machine, Standells, etc; the early '70's hard rock bands like The Stooges, MC5, Ted Nugent, Aerosmith, etc; the early and mid '70s punk bands like the Ramones, Dead Boys, New York Dolls, Dictators, etc; the 1980s hardcore punk bands like Black Flag, Circle Jerks, Bad Brains, Misfits, etc; the great metal bands like Venom, Motorhead, Slayer, etc; and the 1990s grunge rock like Mudhoney, Green River, Soundgarden, etc. I was there for each wave of rock n' roll.
I bought my first guitar from a cousin's girlfriend. It was a 1966 Univox Mosrite copy guitar--like Johnny Ramone later played in the Ramones--white with black pickups. The cool thing about the guitar was that Jimi Hendrix had actually picked up this particular guitar at a party in New York City and played it!
I have to say that who or what inspired me to want to play guitar in a band was the original Alice Cooper Band of the 1970s. They were the perfect blend of horror and raw rock n' roll. The band didn't go into wearing silly costumes on stage but still had a great exciting stage show. Their songs were instantly memorable and paved the way for Kiss, Aerosmith, and so many other bands later. I had every book and article and record ever done on the Alice Cooper Band when I was younger. They were fun and also seriously rocked hard.
HG: Vocalist Steve Miller always sounds as if he gargles with gasoline and razor blades before belting out each song. There was a brief period during the mid or late '90s that a different vocalist filled Steve's shoes for a while. What were the circumstances that led to such a noticeable change in the lineup?
Sal Canzonieri: Steve at the time was also playing guitar in the Crash Street Kids, a local New Jersey Rock band, and they were going to record an album for Atlantic that would end up being right at the same time that we were supposed to tour for two years across the USA, Canada, and Europe. Naturally he couldn't tour with us, but we met Scott Wilkins, the one-time singer of Verbal Abuse, in New York City. He wanted to move back to California and suggested that he sing with us for the next couple of years 'til he moved back to his home state. Eventually, that's exactly what he did. Steve came back to Electric Frankenstein--naturally their deal with Atlantic went nowhere, as most major label deals do--and we even recorded an album with Rik L Rik, from the famous Southern California bands F-Word and Negative Trend, on vocals. We met Rik, who was one of our idols, when we had toured in California the first time.
HG: I saw Electric Frankenstein perform in Dallas not too long after Steve's return as maximus vocalist extraordinaire, and I do believe it was one of the loudest, most animated shows I've ever attended. My ears are still uncontrollably ringing nonstop all these years later! So I'm wondering how the band prepares for each performance, and I'm also interested in what's going through your head after hitting the stage and striking the first few voraciously frenzied chords.
Sal Canzonieri: Well, it's just 'cause we love playing rock music and are excited to make the audience excited over rock music. We only practice once a week for a few hours. It's mostly 'cause the music comes right out of our hearts that we have the high energy on stage to make it all electric for the audience. We play LOUD and with lots of melody and power at the same time. The drums are centered on the backbeat, and it all comes together like 1950's rock n' roll did–-except in modern times, it's faster and louder! We jump around and get involved with the audience, and there is a strong give and take of energy between us and the audience that is done to make everyone happy to be there.