Michael Mccarty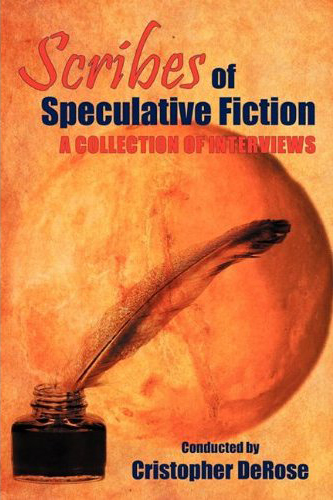 SPECULATIVE SCRIBE
Cristopher DeRose interviews Michael McCarty in an excerpt from DeRose's book Scribes of Speculative Fiction: A Collection of Interviews
He has talked with such legends as Dean Koontz and Ray Bradbury, still receives Christmas cards from the likes of Charlee Jacob and Frederik Pohl, and has talked shop with Peter Straub over donuts… Michael McCarty, going from his roots in his first published work in his school paper interviewing his teacher to taking time out with legends and soon-to-be's.
By the time he graduated college, he was already a writer for Starlog, Science Fiction Chronicle, and Sci-Fi Weekly.
His books, which come out at an almost alarming rate, include Giants of the Genre, More Giants of the Genre, Dark Duets, Monster Behind the Wheel with Mark McLaughlin and the upcoming Liquid Diet.
You can catch up with him at www.myspace.com/monsterbook
Cristopher DeRose: What criteria do you use when selecting a subject to interview?
Michael McCarty: The most important thing for me is if this is a person whose work I'm familiar with. I usually don't worry about getting interviews, I have the luck of the Irish on my side for that.
My first interview for a national publication was with Frederik Pohl for Starlog. I read over 20 of his novels, so I had no problem generating questions for him.
Cristopher DeRose: How did you choose which interviews to appear in Giants of the Genre and which to leave out?
Michael McCarty: The concept behind Giants is that is my Top 20 interviews with some of the masters of the fantastic. I had a wealth of material to choose from -- Ray Bradbury, Dean Koontz, Neil Gaiman, Peter Straub, Poppy Z. Brite, etc., etc.
Giants represents 10 years worth of work that I put together in 10 days. There were a handful of interviews that didn't make the cut for Giants. But I'm nearing completion of the sequel with the working title More Giants of the Genre and that should be out in 2004 from Wildside Press and will include even more interview subjects.
Cristopher DeRose: There are a few collaborations in Giants of the Genre, and you have worked with many others -- do you use any different techniques to ensure a successful collaboration?
Michael McCarty: Patience and being open to new ideas. I really enjoy collaborating with the writers in non-fiction and fiction because my collaborators always take me to brand new worlds I never thought to explore.
Cristopher DeRose: Who is currently pushing the boundaries of the horror genre?
Michael McCarty: The interview subjects of Giants are really pushing horror and sci-fi. Outside of those 20, I would add the established Stephen King, Richard Matheson, Clive Barker and Anne Rice. There is a new crop of up-and-coming writers to keep an eye on Gerard Houarner, Brian Hopkins, Brian Keene, Mark McLaughlin, Jeffrey Thomas, Tina Jens, Tim Lebbon, Simon Clark, John Wooley who has a great new vampire book Awash In the Blood and Teri Jacobs.
Cristopher DeRose: Does a writer need to be a successful author in the given field if he/she wishes to be a valid critic of it?
Michael McCarty: Not really. One only needs a good working knowledge of the genre and an open mind to be a successful critic. I was the book critic for Indigenous Fiction and I had a blast while it lasted.
Cristopher DeRose: Do you have a preference to writing fiction to non?
Michael McCarty: I enjoy both. I'm always writing, be it an interview, a short story or on my two novels.
Cristopher DeRose: When writing fiction, you are able to use humor in your horror to great effect -- how do you avoid it becoming parody?
Michael McCarty: I use to be a stand up comedian so humor comes naturally to me. I tend to use it more for effect, to break up the darkness.
Cristopher DeRose: What was the first horror or SF story that had an impact on you?
Michael McCarty: For horror, Anne Rice's Interview With A Vampire, I read that novel when I was a teenager and it made me want to do interviews and write vampire books [laughs].
For science fiction, Gateway by Frederik Pohl and Logan's Run by William Nolan. They both had a big impact: making me a Sci Fi fan for life.
Cristopher DeRose: As a kid, which comics did you read more -- horror or hero?
Michael McCarty: Horror. I loved The Occult Files of Doctor Spektor a bi-monthly comic book that ran bi-monthly in the 1970's from Gold Key. Doctor Spektor was a predecessor to The X-Files. I also would read Creepy and Eerie too.
Cristopher DeRose: What are your top five Halloween movie rentals?
Michael McCarty:
1) Night Of The Living Dead (1968)
2) The Brood
3) Halloween
4) Carnival of Souls (the 1962 film, not Wes Craven's)
5) Beetlejuice
Cristopher DeRose: What can you tell us about the projects you have in the works?
Michael McCarty: Wildside Press will be publishing two books of mine next year More Giants of the Genre and a collection of short story collaborations named Dark Duets.
I have a vampire novel I'm currently shopping around called Liquid Diet. I'm also working on two novels with Mark McLaughlin.
END