Teri A. Jacobs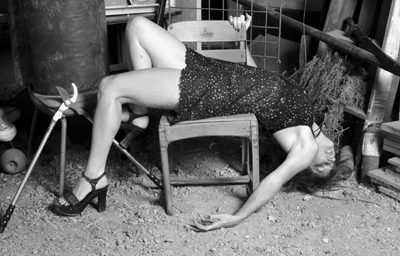 SECRET OF THE BONES:
DARK FANTASY WRITER TERI A. JACOBS
Interview Conducted by Michael McCarty and David Byron
What follows is an excerpt from Esoteria-Land, a 2009 collection of interviews, essays and musings by Michael McCarty. Reprinted with permission. Buy Esoteria-Land from Bear Manor Media.
Teri Jacobs is the author of two beautifully written and haunting novels, The Void (Leisure Books) and Secret of the Bones (Wildside Press/Prime Books). Her work has appeared in a number of anthologies and magazines such as Horror Garage, Flesh & Blood (of which she was also an associate editor), Surreal Magazine, Nasty Piece of Work (U.K.), Divas of Darkness, Reality's Escape, Dark Matter, Terror Tales, Dark Testament, and The Bible of Hell (from which her short story "The Darker Deceit" had been nominated for a Pushcart Prize). Find her on MySpace at www.myspace.com/teriajacobs.
Hi, Teri. How are we today?
Teri Jacobs: We are awesome, but I fear some of my demons must be showing if you know about us [laughs].
When did you first start to write horror fiction?
Teri A. Jacobs: I wrote fantasy until the age of 13, when, inspired by Poe and B-horror movies, I attempted my first scary story. During my time at a gifted youth writer's summer seminar, I learned a lot about writing. Especially the thrill of audience reaction. The class had to read my story before lunch, but my graphic horror killed their appetites! From then on, I developed a compulsion to trigger revulsion.
Do you have a spare copy of The Void?
Teri A. Jacobs: I wish I had a spare copy! You can search www.bookfinder.com for a copy, or check out Half Price Books. The Void had a fast run-through during its bookstore shelf-life. Leisure's warehouse sold out within three months of its publication, Ingram within nine months. For whatever reason, Leisure did not re-issue a printing, despite backorders existing. Of course, I am assuming the source who told me this is reliable.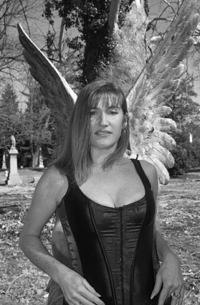 My second novel, Secrets of the Bones, is still available for order on Amazon.com and such. Perhaps it will entice you. If you enjoy fallen angels, necromancy, Enochian magick, aberrant sex and gore...
For those who are unfamiliar with The Void, what is the book about?
Teri A. Jacobs: The Void is a disturbing tale of madness, torture, demons and death. I think Publisher's Weekly best summed up the plot:
"Alternating between the real world and the netherworld of Xibalba, a hellish realm where demons torture unfortunate souls, Teri Jacobs' debut The Void, covers the gamut of gruesome ways to die. And there are many, which this book describes with blood-curdling clarity. There's something special about photographer Leslie Starr, but only the demons of Xibalba and Coatl, the Dark Man who plagues her every step, knows what that something is. Determined to bring Leslie's soul to Xibalba, Coatl draws her back to her ghostly hometown by killing those closest to her."
Ultimately, the book is about being haunted. Haunted by the past, by legend and fate, by the sense of self, shaped of pain and isolation, and by the immaterial and the unimaginable.
One of the most interesting characters in The Void is the Dark Man. What was the inspiration for him? Were there any worries about readers being confused with Stephen King's Dark Man character in The Stand... or the movie Darkman?
Teri A. Jacobs: The Dark Man, or Coatl as he refers to himself, stemmed from the basic idea of a stalker -- a hunter in the shadows. But then, a documentary on ESPionage, where spies clairvoyantly ferreted out enemies and sought secrets, sparked my imagination and, with a twisted mix of shamanism and astral travel, he evolved into a lurker in the mind -- into a stalker of dreams who, driven by demented ambitions and by the demands of dark gods, sacrifices the souls of the dreamers.
I thought it more frightening for a stalker to creep into the mind rather than inside the house. At least in the house, you could pick up suitable weapons for defense, phone the police, squirrel yourself in the closet or under the bed, or lock yourself in the bathroom, or even flee the house and the intruder all together. But, how can you hide or escape from yourself?
Until you asked, I didn't have any worries about readers confusing my Dark Man with Stephen King's character or the movie. Honestly, I didn't even consider the term had been used in other places, and the similarity is purely coincidental and in darkness, mystery and danger. No other name would have sufficed.
What was the hardest thing about writing your first novel?
Teri A. Jacobs: On top of struggling for the "brilliant idea" and being overwhelmed by scope of how much effort lays ahead, the hardest thing about writing my first novel was not writing short stories. I loved writing short stories. It had been all I'd known. At the time, I had begun building a good reputation for myself in the small press and would be walking away from prime anthology or magazine opportunities. But, I had to concentrate all my creative energy on the novel, as my dad had taught me, never do a half-ass job.
I have read your stories "Masque Macabre" and "Wild Things." I was literally glued to them as I read them. Do you have a short fiction collection published? If not, you should!
Teri A. Jacobs: I don't have a short fiction collection yet. I've a novella-in-progress, "The Bone Man," with which I'd want to end a collection. But, someday... someday I will publish a short-story collection. Just need more meat for the bones.
I understand you enjoy mythology. What started your interest in that subject?
Teri Jacobs: I grew up with the old Sinbad movies and loved all the mythical gods and monsters Sinbad battled. Kali with her multiple arms and swords, Medusa with her serpent-hair... the Cyclops simply fascinated me. After reading The Odyssey, I understood the primal power and fear of ancient mysteries. I want to resurrect or create my own gods and monsters. Isn't that what horror writers do?
You have been compared to Stephen King and Clive Barker in your writing style. I can see why. How does that make you feel?
Teri Jacobs: Freakin' incredible! As giddy as a demon who escaped Hell and is razing Heaven [laughs].
What is your favorite horror film? Book?
Teri Jacobs: My favorite horror books are The Stand by Stephen King and Weaveworld by Clive Barker -- and now you understand why comparison elates me. I can't decide what my favorite horror movie is, but I love Alien, John Carpenter's The Thing, Halloween, Suspiria, and The Devil's Backbone.
Do you have any present or future projects you'd like to talk about?
Teri Jacobs: I have exciting news actually! Dark Infestations, a movie adapted from my short story "The Ovid Project," premieres at the end of March 2008! I wrote the full-length treatment and several of the script's scenes. At the moment, I've no other details except distribution deals are still being hacked out.
Some of my fans already are aware of the fact that I'm on hiatus from writing fiction. I have to obtain my master's degree in biogeography before returning to writing. In August, I'm traveling to Namibia, Africa, to study great cat ecology and gain some field experience with cheetah conservation. I have to fight horrors in the physical world before I entertain you with them in the metaphysical world.
And then you may look forward to my third novel, and fourth, and fifth... I've ideas for more. My Muse is vivisecting my mind with inspiration!
You are friends with two British writers, Simon Clark and Tim Lebbon. Do you have any stories about them you can share, or any comments you'd like to make about their writing?
Teri Jacobs: I count another British writer as a friend as well -- Graham Joyce. He made the most memorable first-meeting impression as he petted my suede mini-skirt. He's such a gregarious, incorrigible, irresistible fellow -- who quotes William Shakespeare, no less -- and I am in his debt for the time he, an award-winning author, spent teaching me, an unknown writer, the art of self-editing. His work is quite impressive, not as sparse as he'd lead you to believe, definitely rich in character and theme, and as worldly, mysterious and intelligent as the man behind the words.
Towering one and a half feet above me, Simon Clark is the genteel giant. I predict he'll be a horror giant in the future. His novels evoke a sense of dread in the reader, something that rarely occurs anymore -- at least in me. I read Blood Crazy with rapt fascination and a racing heart, and it drives me crazy to know how little time he spent producing this scary first novel. I hate him [stated with a very big grin]. Other than his novels and friendly manner, I love how silly Simon can be. He once demonstrated to a group of us at lunch how little sandwich flags can look like alien antennae as he twirled them at his temples.
But watch out for Tim Lebbon. He once twirled me upside down and then accidentally dropped me on my head. No accident, though, that he's a rising star. With his dense, thoughtful, savory-chewy prose, he has been compared to Ramsey Campbell and Arthur Machen, but he is a great storyteller in his own right. And someone I'm very glad to count as a good friend, even if he does forget his strength and balance. He's fun no matter.
In the last few years, these three talented and amusing writers have shared their advice and experience within the publishing industry with me, and I value their support.
More and more women horror writers have been emerging on the horror scene. What do you contribute to this? Who are some of the women in horror you admire?
Teri Jacobs: The fairer sex has gone foul. Women have emerged onto the scene with extreme, brutal, gruesome, horrifying fiction, without sacrificing the art and beauty of the language. Hopefully I've contributed nothing less than a well-written, riveting, chilling, groundbreaking novel. I am proud to be associated with the women in horror -- Storm Constantine, Lucy Taylor, Poppy Z. Brite, Elizabeth Massie, Yvonne Navarro, P.D. Cacek, Nancy Collins, Mary Ann Mitchell and Charlee Jacob.
You are very vocal about censorship. What is it about this cause that interests you?
Teri Jacobs: Under the condition no reasonable laws will be broken, I believe in freedom of self-expression. Censorship stands one step away from thought-control, and the more we allow others to determine and regulate our courses, actions, choices and expressions, the closer we enter into a totalitarian state. Paranoid? Perhaps -- after all, I am a horror writer and can imagine the world if we give up our choices and voices...
Would you consider some of your writing erotic horror? What is the secret of writing good erotic horror?
Teri Jacobs: Some of my writing contains erotic elements, but I don't write for the sake of sex, or for the sake of gore. The secret to good erotic horror is the same for any good fiction: intriguing characters, strong plot, theme and style of writing, and the ability to draw the reader into the fictional universe. Writing itself is a form of seduction, and with erotic writing, the focus becomes titillating not only to the mind and imagination but the body as well. The secret to drawing a reader into an erotic scene stems from an understanding of desire and the sexual beast. It also helps if you're a dirty-minded flirt.
Last words?
Teri Jacobs: Beyond inherent talent and luck, three things will bring success to a writer -- what I call the P-traits: passion, persistence, and perspiration.
END
***
WWW.MYSPACE.COM/TERIAJACOBS