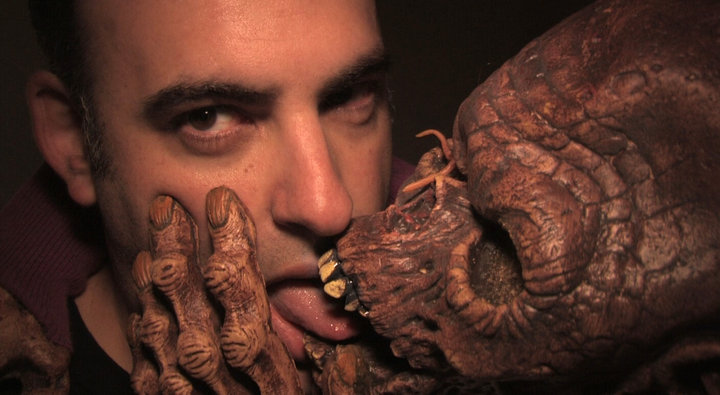 CHILDREN SHOULD PLAY WITH DEAD THINGS
Pitch Black Speaks to Eric Weiss of Zombie! ...and Lives!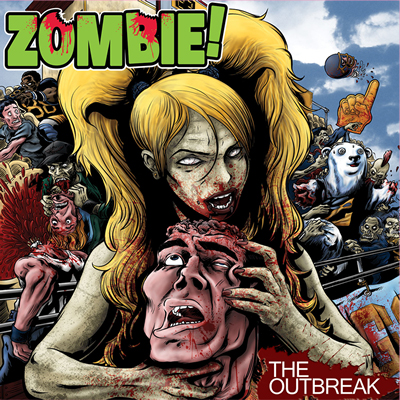 The Outbreak is a scorching, gorey, sing-a-long FUN celebration of the coming zombie apocalypse. Eric Weiss, the heart of Zombie!, never misses a beat as he digs up Danzig-era Misfits, rampages through the Ramones and claws at Tiger Army viscera. The Outbreak not only succeeds in being the most fully-realized horror punk visions in a loooong time -- the tunes rock hard, the humor is black and Corefolio's accompanying artwork is dead on -- Weiss also sets a new standard by which future entries in the genre will have to be measured. No self-respecting ghoul can exist without this. Get more Zombie! at: www.facebook.com/ZombieRiot or www.TheZombieRiot.com
Horror Garage: I know you've been into horror since you were really young. As a kid, were you the quiet, thoughtful type, a troublemaker, chronically misunderstood, or something else?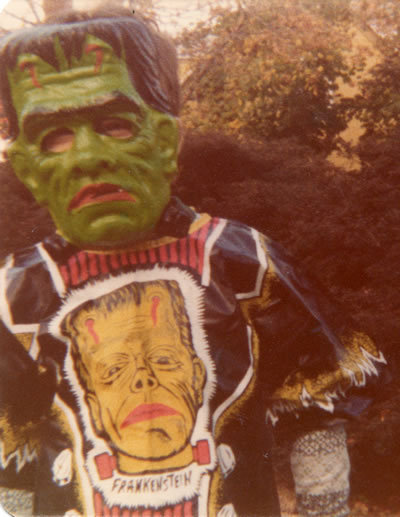 Eric Weiss: I'd probably have to say all of the above and something else. As a kid, I was moved around a lot. Horror was the most consistent thing in my life. By the time I was 14, I had been in nearly a dozen different schools, so I didn't really get the chance to maintain many friendships. I didn't get into trouble with other kids; mostly just with school staff. While other kids were covering their school books with brown paper bags, I was using kill scenes from the pages of Fangoria.
HG: Could you give us some insight into your musical background? For instance, at some point you worked with The Misfits, correct?
Eric Weiss: Around the mid '80s, I discovered punk and hardcore. The whole DIY ethic really excited me.
By then, I had a small group of close friends who collectively assigned me the position of "drummer" in our new hardcore band, Conniption. So, I just taught myself drums. Music came pretty natural for me and I stuck with it, learning other instruments along the way. I played in several different bands and networked for years. Eventually, I decided to focus on the business side of music. There was a lot more opportunity for me there, and I didn't have to rely on other band members to succeed.
I met the Misfits in early '95 when they were just starting to audition new singers. I quickly became good friends with Jerry Only and spent a lot of time in New Jersey with him. My official role was publicist, but back then everyone involved did everything they could to help out. They invited me to continue working with them on tour, which was an amazing experience.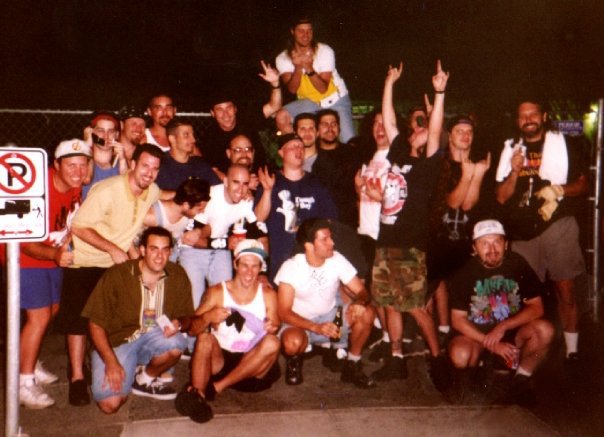 HG: What things did you consider going into creating Zombie? What were some of the things that you felt you HAD to be able to accomplish with it, and what were some of the things you DEFINITELY wanted to leave out?
Eric Weiss: With Zombie!, the sole mission was to create the kind of entertainment that I've always wanted to be into, as a horror fan. Just really fun, over the top horror content with a dark humor edge. That's what I really love.
Truthfully, I've already accomplished more with Zombie! than I ever thought possible. I was blown away at how quickly it started growing. Within the first year, fans were getting my logos tattooed on them and other bands were covering my songs, yet, I hadn't played live or even released an album. It's been incredible, and I'm really thankful for it all.
Fan participation is also a huge part of Zombie! I encourage them to send in their zombie photos, create Zombie! videos, fan art, play along with online games, and much more.
The one thing I wanted to leave out from Zombie! was the traditional method of doing things.
I wanted to create a whole multimedia experience, where I could share all of my skills and talents under one project.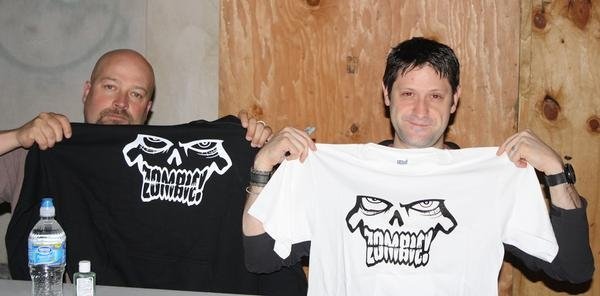 HG: You spent a long time cultivating an audience for Zombie! leading up to the release of The Outbreak. You've been selling t-shirts for a while, for instance, posting a Zombie! joke every day on your Facebook page, etc. What was the initial strategy, and now the album is here, does the strategy change?
Eric Weiss: From the beginning, Zombie! was more than just music. It started with art, photography, video, and a few original songs. I began selling the clothing first because I was able to distribute everything else online for free. The fans loved the logos, and I wanted to provide them with something tangible, not just something downloaded.
Releasing the album really won't change the strategy and vision, mostly because the current strategy is still working. As Zombie! grows, I will add more components to the project.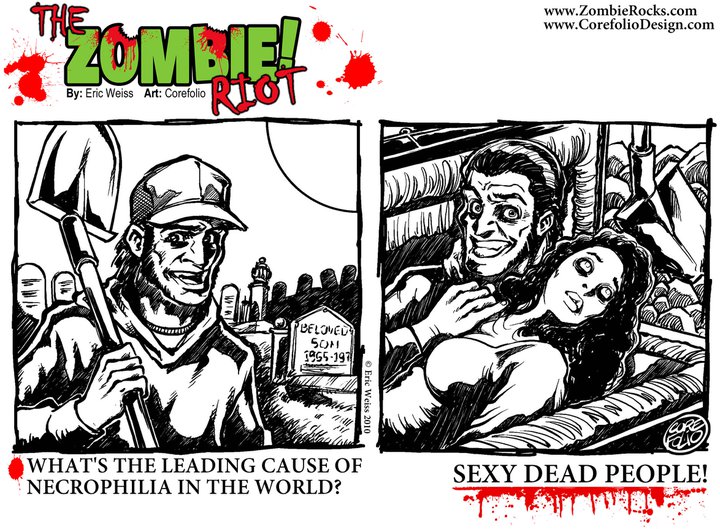 HG: Zombie! is a one-man show correct? You're playing all instruments on The Outbreak, wrote, produced, etc., etc? Is there any reason in particular you chose this route as opposed to the standard "band" thing?
Eric Weiss: Yes, Zombie! is a solo project. It's actually just easier and more efficient for me to do it that way. When I write the music, I hear the entire arrangement in my head. I know how all the parts should sound and I can record them at my leisure.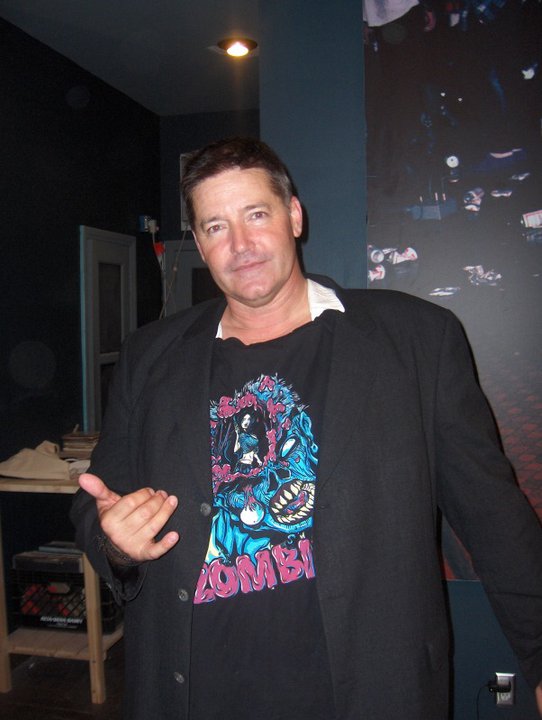 Maintaining a level of consistency with the music is extremely important to me. Being able to write, produce, and perform all my material is a huge advantage that not many artists get to enjoy. For the fans, it means they will always be able to count on Zombie! to deliver what they expect. It's such a drag when band members leave or an entire band that you love calls it quits. That will never be the case with Zombie!
HG: Do you have any plans to put together an ensemble for live performances? Why or why not?
Eric Weiss: I'd love nothing more than to rock out these songs live every night to thousands of fans, but it needs to be done the right way. I have a very clear vision of what I want the live shows to be like, and my budget simply isn't there yet.
HG: You chose to base Zombie's sound on rock n' roll, whereas a lot of people seem to go the metal route for horror-themed bands. Your thoughts?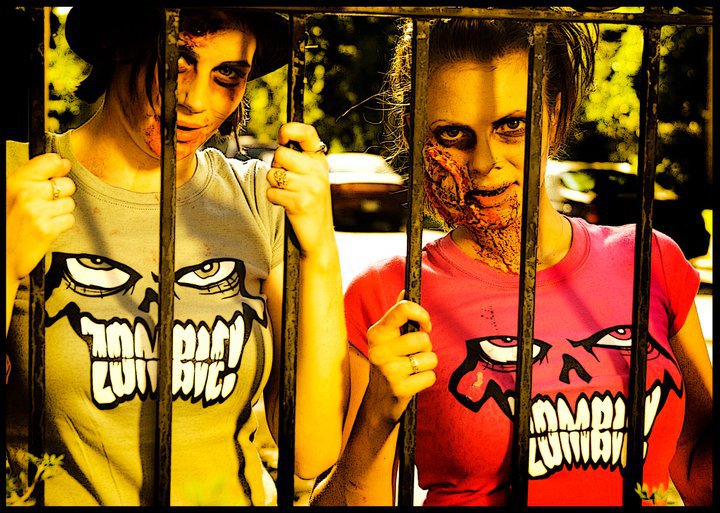 Definitely. I actually love what a lot of metal bands do with their imagery and the content of the lyrics, but most times you can barely understand the vocals. With Zombie!, I wanted to have that same gory imagery and horrific lyrics but with fun, catchy songs that compel you to sing along.
When I write Zombie! songs, I don't think about music genres at all; horror comes first. The role of the music is to simply convey the emotion of the story. Zombie! certainly has a distinct and cohesive sound, but true fans of horror are the ones who appreciate what I do the most. I actually prefer that. Music genre fans can be fleeting, but horror fans are forever. Many people don't realize how difficult it can be to succeed in a genre like "Horror Rock." You need to effectively inspire people on two levels; with great songwriting and with great horror content. You cannot fall short on either. I love that challenge.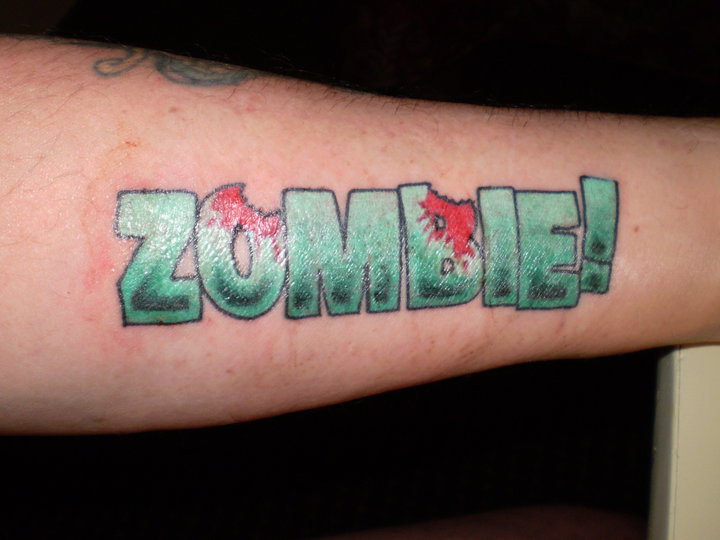 HG: What's your favorite track on the album and why?
Eric Weiss: I love them all equally. I spent three years working on the album, and became obsessed with tweaking each track until it sounded perfect to me. There are no words to describe how proud I feel when fans tell me that The Outbreak is one of their favorite albums of all time.
HG: In addition to the album, there's also a video game, book and film in the works, correct? Tell us about those.
Eric Weiss: Yes, there's a three-level, 3D First Person Shooter called Zombie!: Death Rage that was created as a free online game and for the album. There's also a comic strip, The Zombie Riot, based on my jokes. My next project will be a book of my horror jokes and humor. I've got a few ideas and opportunities for a film component, but it's still too early to discuss.
HG: There are bodies buried under your house. Admit it.
Eric Weiss: There are corpses everywhere. I don't care what they say, a house full of dead bodies beats being alone.
HG: Anything in closing?
Eric Weiss: THANKS FOR THE FRESH BRAINS! Send your infected to www.facebook.com/ZombieRiot or www.TheZombieRiot.com
There are free mp3s, artwork, photography, the Zombie! Girls, videos, merch and a lot more. Fans can also submit their own zombie art and photos for inclusion in the project.
If you dig true horror entertainment -- or, if you're just a psychopath -- you are always welcome here.
END