chainsaw sally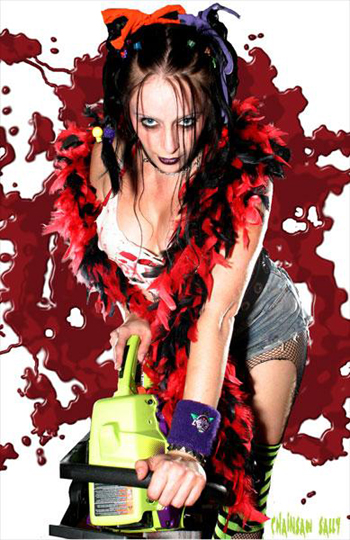 [1] [2] [3] [4] [5] [6] [7] [8] [9] [10]
The involvement of "Godfather of Gore" Herschell Gordon Lewis and Gunnar "Leatherface" Hansen was not only a huge boost for the marketing of the "Chainsaw Sally" film, but was a great opportunity to deepen two very special friendships we'd begun with both men.
We (and by "we", I'm talking about JimmyO and myself -- being husband and wife, plus best friends and partners in crime, we do a lot together) got to know H.G. Lewis a year or so prior to the film when Jimmy contacted him to be a guest at a horror convention in Baltimore. The convention fell through, but -- being fellow directors -- the two started talking back and forth regularly. When the time came to create the Sally movie, JimmyO asked Herschell if he'd care to come and play with us and he said "yes."
Gunnar Hansen was told by a friend of his about this website where some cute slasher chick proclaimed a huge crush on Leatherface. He checked it out, and then wrote me a very nice email about it. I remember it to this day... "I just spent 48 sweaty minutes looking at your website." When I saw who it was from, I just about fell over. When, after a couple more emails, I confirmed it was really him, I DID fall over. After that, we occasionally chatted via email, then, when the Sally film was in pre-production, we contacted him and asked him to join us. He not only agreed to be in it, but made sure to help publicize it at every chance -- at conventions, during interviews, etc. The best part of that story is that he and our family have developed a real friendship. He's an intelligent, witty, caring man and our family is glad to count him as a friend.